Interesting Facts about Louis Vuitton
The brand's iconic monogram logo print and stylish handbags are timeless and there's no monogram easier to recognise than Louis Vuitton. But did you know that Louis Vuitton changed the way luggage was made? Here are a few interesting facts about Louis Vuitton:
Louis Vuitton opened his first store in 1854, he began making handbags after the 1892 world's fair.
All Louis Vuitton handbags are handmade. It takes about a week to create one handbag.
The brand was also well known for developing a lock that 'no one could pick' for their trunks. In 1896, George Vuitton (Louis Vuitton's son), patented the single lock system with two spring buckles. George was so confident with the quality of the locks that he publicly challenged famed escape artist and illusionist, Harry Houdini, to break out of a locked Louis Vuitton trunk. Unfortunately for us, history does not record Houdini's response. What's more, is that the lock system is still used by the company today!
After every season, if any of LV products are not sold then, they are sent back to its factory in France and are shredded or burnt, in order to sustain an item's value and class of brand.
Louis Vuitton bags are waterproof and fireproof. This is one of the reasons why they are so expensive.
The Alma was originally custom designed for Coco Chanel herself.
The tan leather used alongside the monogram is all natural and contains no dye or chemical colouring, which is why is darkens over time.
Louis Vuitton, the man, got his big break as the official box-maker and packer of Napoleon Bonaparte's wife, Empress Eugenie de Montijo of France.
Both Louis Vuitton's famous Damier and Monogram prints were created to avoid copycats.
Louis Vuitton began his career as a trunk maker at age 16.
Ever wonder why Louis Vuitton bags are so durable? It's because each bag goes through several durability tests before it is released to the public. It is said that each handbag is filled with 3.5 kilograms of weights and dropped from half a meter for four days. The material also goes through ultraviolet treatment to ensure resistance to fading. And the zippers? Each bag is opened and closed 5,000 times to ensure they work well while in the hands of a customer. As we said, every single LV bag is treated as a masterpiece!
Buying ​your dream Louis Vuitton is a huge investment, and no-one wants to be duped to find it's actually a fake. So the question is how to spot a fake and authentic Louis Vuitton bag?
​There are many ways to distinguish authentic Louis Vuitton from a replica, here are a few:
The Logo Placement
Authentic Vuitton ​handbags always have the logos placed symmetrically. A Louis Vuitton product will never have the LV logo cut off, if the logo appears half on and half off the purse, it's obviously fake! The authentic LV monogram is usually symmetrical from side to side in all monogram styles, ​the LVs are in relation to the handles, sides, quatrefoils etc.
The Stitching
Stitching should be very even and straight. Louis Vuitton places the same number of stitches in the same locations on similar bags. So if you know a particular style of handbag has 5 regular stitches across the top of the leather tab, you can spot a fake if it has only 4 stitches.
The Fonts
Louis Vuitton uses a very specific font. ​A​ lot of counterfeiters have begun to do a better job at knocking it off s​o be very careful. Notice the VERY round "O"s.  If the bag has oval "O's" it is fake! Real Louis Vuitton type font has very circular, almost perfectly round, O's.
The Leather
Examine the leather. Louis Vuitton is well-known for their high quality luxury goods. Fake: The leather is rather hard, tough, and rough. Real: The leather is silky-smooth. Louis Vuitton uses oxidising natural cowhide leather that turns a dark golden honey colou​r over time.
The Details
Louis Vuitton uses brass and gold metal hardware, not gold painted plastic. The zippers should also have the letters "LV" neatly imprinted and the zipper is extremely smooth.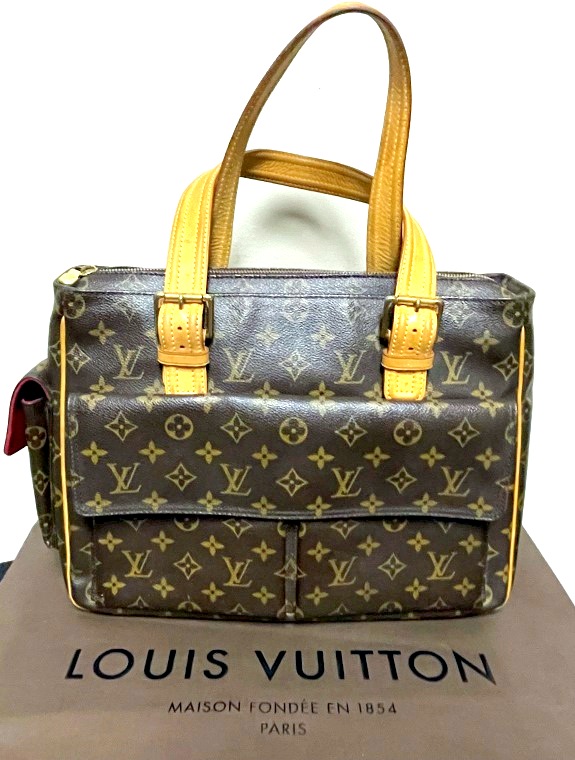 The Date Code
All authentic Louis Vuitton bags made since the early 1980s should have a date code, which is two letters followed by four numbers. If your bag has a variation of this formula or none at all, it is probably a fake. You can find the date code hidden inside the bag.
The Packaging
A real Louis Vuitton comes with a high-quality dust bag that perfectly fits the bag. The dust bag is made from beige cotton with neat, tight seams, they are not made out of cheap material and do not have rounded edges. It also has a tiny tag inside that says the dust bag is 100 percent cotton.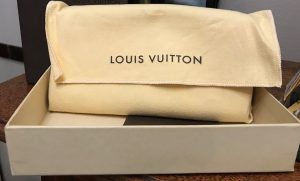 Be sure to watch our Facebook pages and Website for new Louis Vuitton items that come in.