We absolutely adore vintage suitcases!
Upcycling them creatively into all manner of newly useful décor and furniture pieces is an awesome way to showcase these treasures from yesteryear.
1. Re-covered vintage mini case
Have you always admired those adorable rectangular shaped hand cases that women used to carry all manner of things when they traveled places for short times, but found that you have trouble coming by them in modern baggage stores? 
2. Vintage suitcase table
Are you looking for a simple way to reuse a suitcase but you'd rather make yourself a piece of furniture than a refurbished bag because you already have enough for traveling with? 
3. DIY vintage suitcase dresser with drawers
Do you love the idea of using a suitcase turned sideways as a surface for storage but you'd rather make something that takes advantage of the storage inside as well? In that case, perhaps you'd prefer to make something like this stacked suitcase dresser instead! This is a great opportunity to use larger cases and trunks to give yourself maximum storage capacity. 
4. Bathroom / Medicine cabinet
Do you have a small style suitcase that isn't big enough to be a dresser or a drawer but you're not sure you need another side table right now? Then perhaps you'd rather make yourself some wall storage for a room that always has lots of things lying around?
5. Suitcase home bar table
Do you like the idea of a side table, but rather than just storing trinkets or your keys on it, you'd rather make one that has a specific purpose and gives you a place to put things you don't already have storage for?
6. DIY doll home suitcase
7. Vintage suitcase speakers
If your DIY skills actually lie more in the realm of electronics than anything else, but you still love transforming old things into something new and useful? Besides being a good chance to tinker with wires and speakers the way you like, this project is awesome because your finished product will actually work to play music.
8. Simple painted suitcase decor
Maybe you've been browsing these project ideas thinking about how much you like the but also knowing that, in the end, you like the look of vintage suitcases so much that you don't really need to alter them very much to make them useful to you because you're happy just to have them as side décor?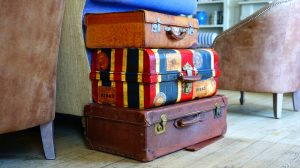 9. Low vintage suitcase coffee table
We've talked about side tables and bar tables, but what if what you really need is a coffee table?
10. Pretty suitcase jewelry display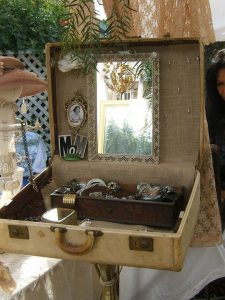 11. Tall vintage suitcase side table
The beauty of adding your own legs to things in order to make custom tables is that you can choose the height you need. Just like you can make yourself a low coffee table, you can also create a higher piece that will sit more level with where you'd set something when you're standing, making it great for the hallway by the door.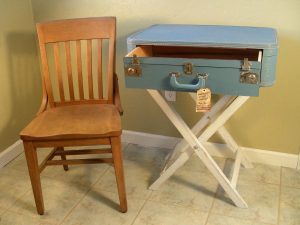 12. Large industrial era suitcase coffee table
Do you find yourself in need of a coffee table but you don't need the low kind that we showed you before and you'd rather make something a little bit bigger? Perhaps you'd really like to make yourself a piece that has a little more of an industrial looking edge to it and you've got a bigger suitcase to work with that almost looks like a trunk. In that case, you might need a different type of legs on the suitcase to support the weight of working with something bigger. 
13. Vintage suitcase writing desk
When you started looking for a unique piece of furniture that you could make yourself from a suitcase, did your mind wander to something really unique? Sometimes it's nice to have something that isn't just a side table for your hallway that you still made yourself and can be really proud of.