Hover
Hover
Hover
Hover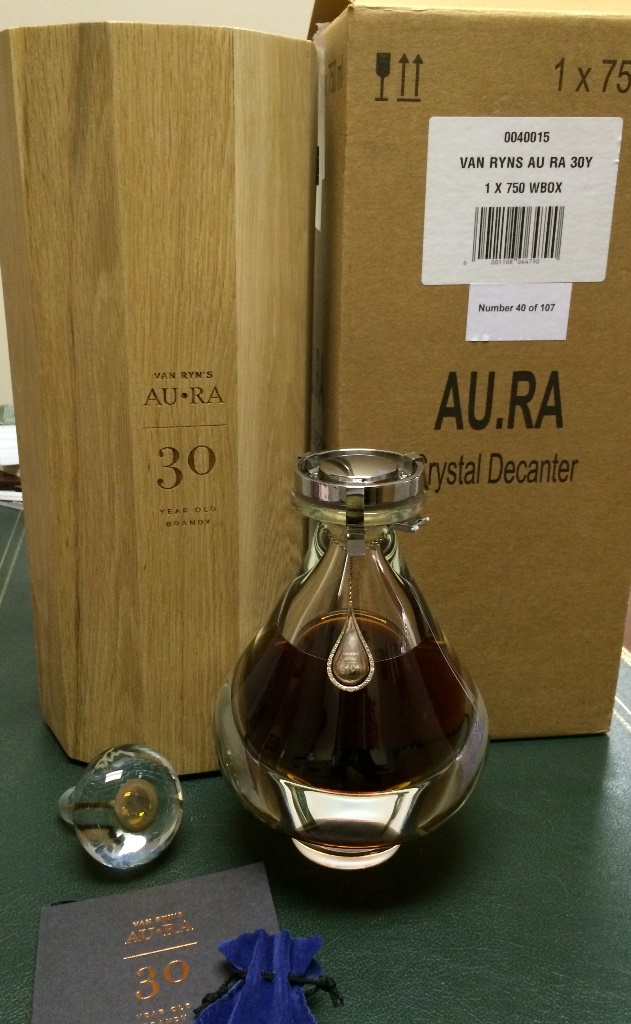 Hover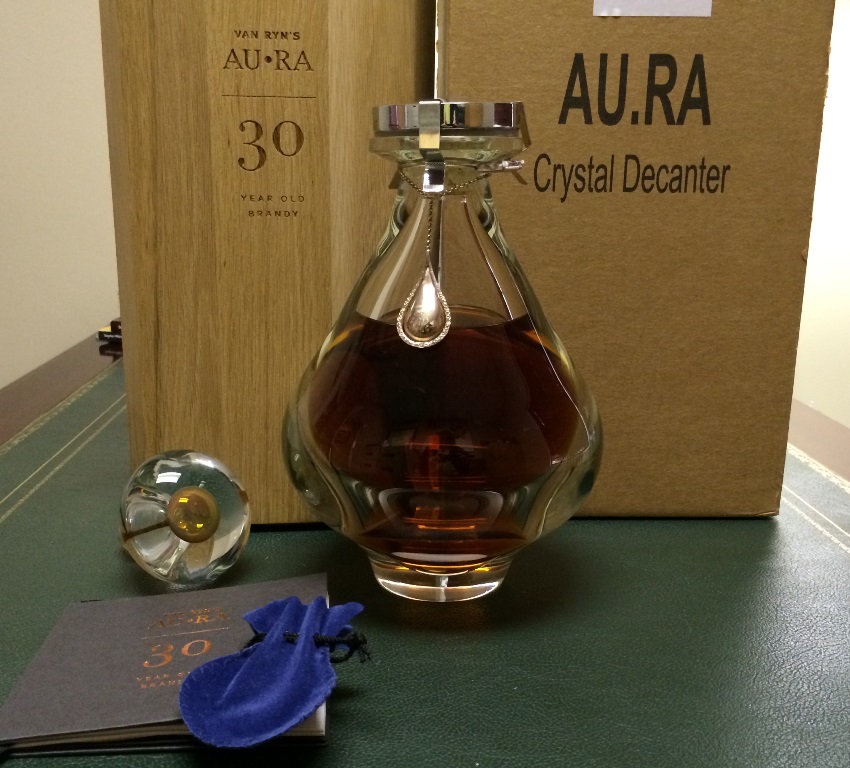 Hover
Hover
RARE VAN RYNS AU.RA POT-STILL 30 YEAR OLD BRANDY : R25000.00
RARE VAN RYNS AU.RA POT-STILL 30 YEAR OLD BRANDY
LIMITED TO ONLY 107 DECANTERS CREATED
R25000.00
Van Ryn's golden decoction of a brandy, Au.Ra, is a rare item in the distilling industry. The name is derived from Au, a chemist's symbol for gold and Ra, name of the sun god. Together, it fits the name of the South African brandy from a renowned distillery. Au.Ra was encased in only 107 decanters, making this precious burnt wine a rare experience for the chosen elite. Each decanter is a tribute to 107 years of Van Ryn's perfection in the distillery outfit.
Tucked in the heart of the Vlottenburg Valley where a picturesque landscape backdrops the tranquil Earste River of the Western Cape, is where the Van Ryn's Brandy Distillery can be found. It was founded by the Dutch-borne Jan van Ryn who built the distilled wine facility in 1905. It carried on the tradition of producing exceptional brandies that today's generation of exquisite taste and sophistication can enjoy. The thirty-year old distilled wine spirit in Au.Ra is South Africa's longest-matured pot-still brandy.
Au.Ra is a rare collector's item, befittingly encased in a bespoke decanter that's hand-crafted by designer and artist David Reade. The South African is famous for his exhibits and art pieces kept in the cultural museums all over the nation. Being a master of the ancient art of glass-blowing, Reade earned the right to personally create 107 of the rare decanter to house Van Ryn's liquid gold. The crystal wine vessel is further made elegant by a teardrop bottle neckpiece created by the award-winning jeweller Bridget Zietkewicz. The teardrop silver-plated ornament will bear the name of Au.Ra and its legendary creator. The bottle is all encased in another work of art by another renowned designer, James Mudge. The veteran architect gives the wooden case meticulous attention to match the brandy perfection and the artistically detailed decanter.
The distilled wine itself stands for the Dutch legacy of burnt wine. It boasts a smooth distilled wine taste, exuding only of perfectly aged spirit.
MARLENE BESTER was lured into the world of spirits by the mystery of distillation. She has a Master's Degree in Wine Biotechnology and her passion and knowledge of brandy resulted in her overseeing all facets of the brandy creation process at the Van Ryn's Distillery. From distillation to maturation, Marlene takes pride in the fact that Van Ryn's has won the International Wine and Spirit Competition (IWSC) Worldwide Best Brandy title four times and is a two time winner of the International Spirits Competition (ISC) Best Brandy trophy, the most any South African Brandy producer has achieved over the past 8 years.
DAVID READE is a true designer and artist. As a highly skilled and competent glass technician he has earned the position of South Africa's foremost craftsman in the ancient art of glassblowing. He has exhibited all over South Africa and collectors locally and abroad seek after his work. David's work is housed in private collections and art museums such as the Cultural History Museum Cape Town, Durban Art Museum, Pretoria Art Museum, Pietersburg Art Museum and Stourbridge Glass Museum.
BORN IN ZIMBABWE to an Irish mother and a Polish father, BRIDGET ZIETKEWICZ moved to South Africa as a young girl. After majoring in Jewellery Design at Stellenbosch University, she started lecturing in Jewellery Design before opening her own studio. Bridget is an incredibly talented and award-winning jeweller renowned for creating jewellery of understated elegance.
JAMES MUDGE specialises in the design and manufacturing of high quality, beautifully crafted pieces of furniture. Studying architecture at UCT left him with a deep appreciation for considered spaces and well-thought-out furniture to fill them. After this, James spent two years working in the Ralph Lauren Studio, designing and building shop fittings for their London and Paris stores. Multi-talented, with an exacting eye for detail and balance, he is a specialist in architectural and furniture design, cabinet making and joinery. The common thread being clean contemporary lines
SOLD
SHARE THIS:
Enquiry about RARE VAN RYNS AU.RA POT-STILL 30 YEAR OLD BRANDY : R25000.00