Hover
Hover
Hover
Hover
Hover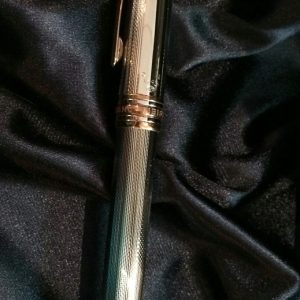 Montblanc Meisterstück Solitaire 163 GP Limited Anniversary Edition 1924 Sterling Silver Rollerball : R21000.00
Montblanc Meisterstück Solitaire 163 Sterling Silver Rollerball
1924 Anniversary Limited Edition
No. 0529/1924
R21000.00
Montblanc Limited Anniversary Edition 1924 Rollerball
Presentation box and paperwork included
Meisterstuck Solitaire
Ident. 02404
No. 529/1924
Sterling silver (.925) 163 rollerball, gold-plated pocket clip and trim, and a brilliant-cut diamond set beneath the captop star.
Produced only in the year 1999 to celebrate the 75th Anniversary of the Meisterstuck line of pens, Montblanc produced the 75th Special Anniversary Edition line.
The 75th Special Anniversary Edition pens are basically the same as the normal Meisterstuck pens, with one most distinctive difference. The clip band is wider than the normal Meisterstuck pen and has the words 75 YEARS OF PASSION AND SOUL engraved. There is a Diamond solitare in the place of the O of the PASSION.
Sterling silver barrel and cap.
Pen comes with a special 75th Special Anniversary Edition Montblanc presentation box with a golden plaque on the cover of the box – 75 years of Passion and Soul, and factory documentation.
Pens bears Ag925 mark
SOLD
SHARE THIS:
Enquiry about Montblanc Meisterstück Solitaire 163 GP Limited Anniversary Edition 1924 Sterling Silver Rollerball : R21000.00