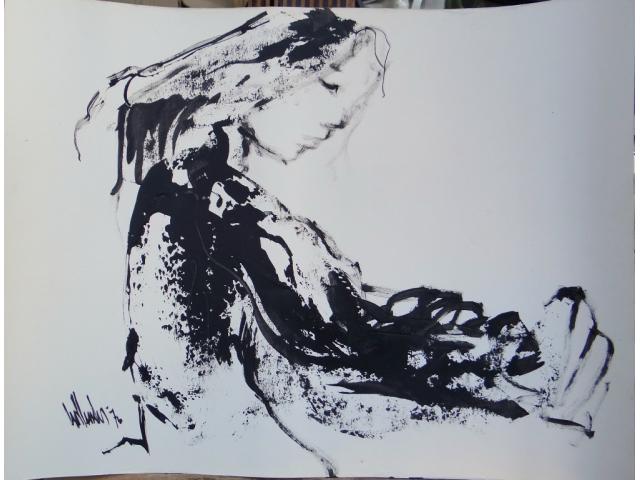 Hover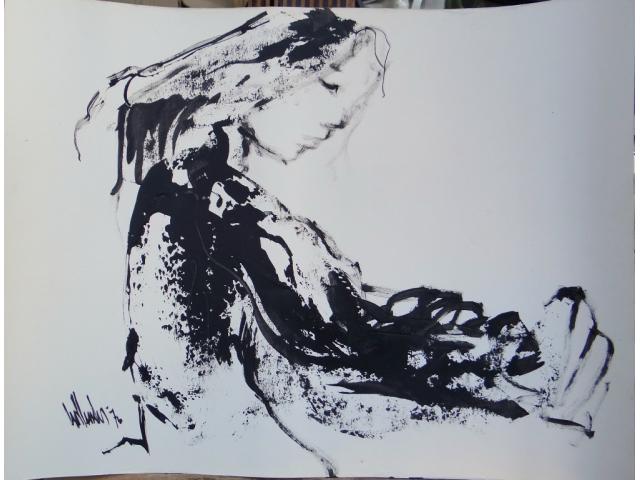 Hover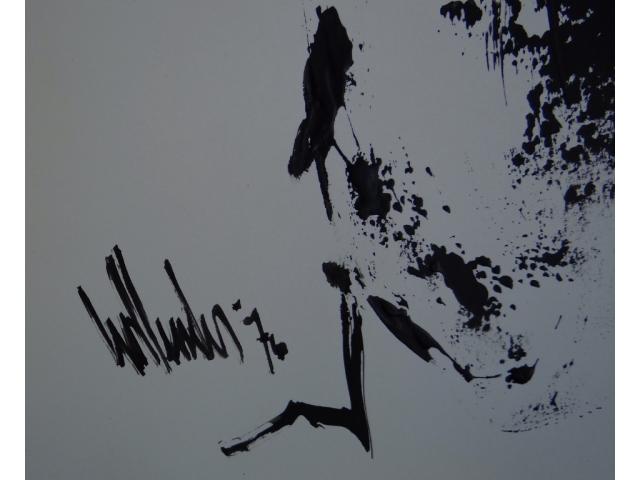 Hover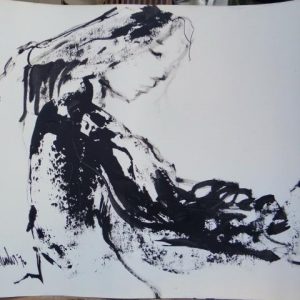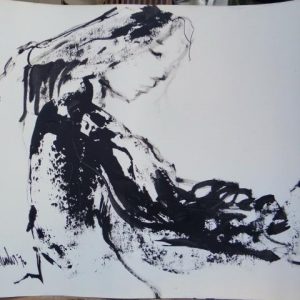 GINO HOLLANDER – 1976 PORTRAIT OF A GIRL
GINO HOLLANDER – 1976 PORTRAIT OF A GIRL
Originally purchased at the Hollander gallery – London
Description: An abstract black portrait of a girl with background of white (1976)
Medium: acrylic and oil on paper
Dimensions: 66 x 49.5cm
Unframed
____________________________________________________________
Gino Hollander (born August 4, 1924 in New Jersey, U.S.A.) is a self-taught American painter. He began painting around the beginning of modern art in New York City during the abstract expressionist movement.
ARTISTIC STYLE – Hollander's work is reflective of his ethos; he makes art because he must, and while he is aware of the art world, it's only vaguely so. His work is honest and emotional; he paints for himself. He has no wish to engage in a dialogue with the viewer. It is for him to paint, for the viewer to view. He refuses to title his paintings. He tells no stories. To him, "there is nothing verbal about a canvas. A painting is simply one way to express a feeling and feelings can only be made less if they are talked to death."
His portraits are purposely poised on the far edge of nothingness, faces left blank or at best enigmatic. His figures are abstracted and his abstracts disturbingly figurative. He'll paint through the day and on into the night, each canvas a different mood. From stark black and white to a splash of brilliant colors and on to a subtle moody sepia, then back to a black and white, gentle this time. He is a complex man and his canvasses reinforce this complexity in the very simplicity of their form and content.
"I chose painting for the immediacy of the moment the medium can allow – its immediacy of expression. I find my deepest moments are of feeling and that is what I strive for in my painting. The art of painting provides me with a constant mirror of my being – both successes and failures, the good moments and bad. I prefer to paint it all as it comes. Painting takes on a rhythm like breathing: loose, tight, whatever. Living and painting become one. I believe in the universality of art's function, a heritage of involvement of everyone – the youngest to the oldest, the artist, the viewer. A subliminal communication of feelings about the human condition. My paintings are expressly directed to evoke an emotional reaction from the viewer." – Gino Hollander, 2010.
____________________________________________________________
WHAT IS ABSTRACT EXPRESSIONISM
Abstract Expressionism is a style of painting that combines abstract form and expressionist emotional value. It started in the mid 1940's in New York but its influence comes much earlier from Surrealism and Cubism. It is often considered America's most important contribution to Modernism.
This was a post-World War II movement out of New York City. The movement is not solely characterized on the fact that all artists associated were abstract or expressionist. Rather, the movement had a number of styles. It can be said that it is an approach that involves complete freedom from all traditional aesthetic and social values and favors spontaneous, free personal expression.[1]
[1] "What is Abstract Expressionism." Jackson Pollock Unauthorized. 15 January 2008.
< http://www.jackson-pollock.com/abstractexpressionism.html>
SORRY I'M SOLD
SHARE THIS:
Enquiry about GINO HOLLANDER - 1976 PORTRAIT OF A GIRL